The Kitchens that Inspire
KITCHENS full of inspiration to dream about in 2023
It is difficult to destroy the white kitchens that, year after year, continue to lead the ranking. But that does not mean that other proposals stand out. Some will be more successful than others. We are showing you some kitchens that will make people talk this 2023. If you will reform yours or want to give it a new look, they will surely help you.
A Kitchen With An Island for 2023!
The kitchens of 2023 reappear with built-in islands. Large or small, they serve as a work surface and an extra storage area. Some house the water area and others the cooking area.
It is essential to include the breakfast bar in them. Forget the big bells! In 2023, the extractors integrated into the countertop will be introduced.
A Kitchen With A Fine-Vein Worktop
Countertops reach 2023 stomping Resistant, durable, practical and aesthetic. In previous years they predominated with extensive veins. In 2023 reappear, with too fine veins, like veins, super decorative. And we will see them not only on the surfaces that they will extend along the sides of the island and on dashboards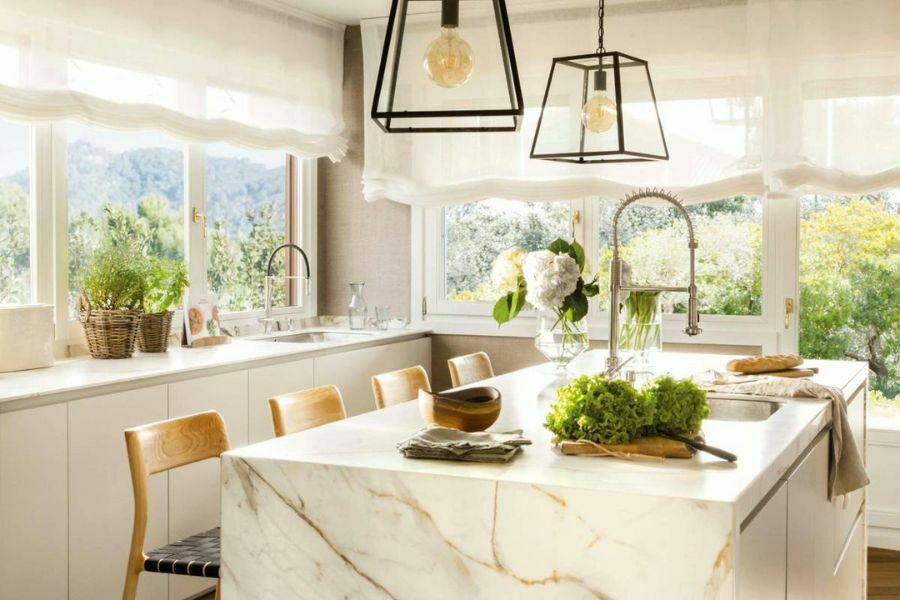 White is not the only neutral that we like in kitchens. As well as the gray. And among all the shades, the one we will see the most in 2023 is this soft, delicate and elegant grey. We see it in this kitchen, open to the living room. A wall with a bench plus storage is an integrating element in the living room.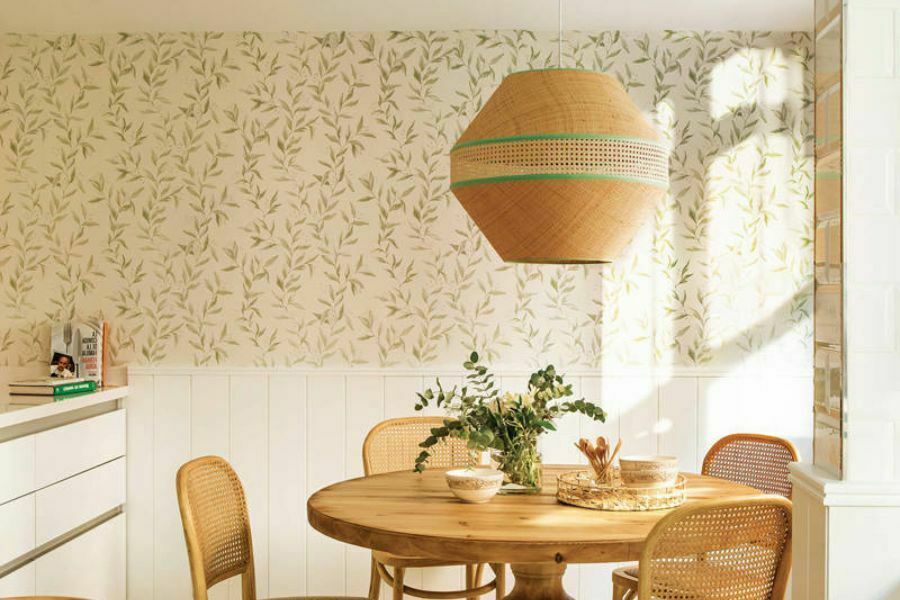 A Kitchen With A Separate Office
In addition to the office aligned to the island, in 2023, we will see them integrated into the kitchen but without taking away an iota of autonomy and personality. This one in the image in wood and fibre, where wainscoting and wallpaper stand out, makes it much more welcoming
And if the metallic sliding doors start in the kitchens of 2023, the wooden palillería ones are not far behind. Perfect for communicating rooms and allowing light to circulate even with closed doors.
With Large Windows To Double Light And Space
Gone are those kitchens with small windows through which hardly any light entered. This 2023 brings us large windows. Something to be grateful for when you have good views. Like this white kitchen that overlooks the garden
A Kitchen In Wood And Fibre
The idyll between wood and fibre that gave so much talk in 2022 continues this 2023. This year we will see kitchens with both materials so well matched. Proof of this is this example that combines wood, countertops, shelves and fibre in rugs and lamps.
In kitchens 2023, we will see showcases with a new air: vertically or horizontally will be backlit. Thus, its functionality when storing tableware is added to its decorative character. And they reappear with transparent or smoked crystals, super elegant.
In White And Wood, Another Good Option For The New Year
Other kitchens for 2023 that we like are combining white and wood. They can illuminate and give warmth at the same time. This one in the image is presented with handles, but notice how they are stylized.
A Kitchen With Retractable Units In 2023
Yes, that door that opens and is hidden on the side will stand out in kitchen installations in 2023. What use can you give to this module? You can use it as a laundry room or breakfast area or hide the ovens if you don't like them to be seen.
If you want to update your kitchen with a modern countertop, consider buying from If you want to update your kitchen with a modern countertop, consider buying from Countertop Specialist, you will have an installation in ten days if you wish.