Supreme Choices for Your Kitchen Sinks
Top Options for Your Kitchen Sinks
Stainless steel sinks have served workhorses in the contemporary kitchen design world for over a century. And, while they'll always be a timeless feature – especially for those on a budget or who need a sink that can stand the test of time – some homeowners are bypassing stainless steel and looking towards the latest trends in kitchen sinks.
What Is The Current Trend In Kitchen Sinks?
Farmhouse sinks continue to trend because they are versatile – working with traditional and modern design styles. Plus, big open container-like basins can accommodate dishes from even the busiest kitchens. Until recently, farmhouse sinks were largely available in either stainless steel or white porcelain. Now, they're offered a range of finishes, including fired clay, natural stone, copper and even wood!
Workstation Sinks & Accessories
Workstation sinks enhance the function of any kitchen and are particularly beneficial in smaller spaces and accessible kitchen designs. Slide-over cutting boards, drainboards and colander inserts optimize functionality and help keep messy kitchens to a minimum. Accompanying racks can also keep food items or metal cook/dishware off the surface of the sink, which makes it easier to preserve the brand-new look of porcelain or another light-coloured sink finishes.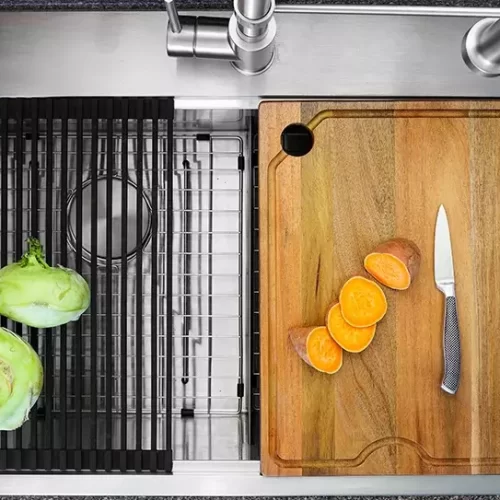 Showcasing a prominent front surface, this spacious sink offers ample depth and width, extending just beyond the lower cabinetry. In addition to drop-in and under-mount sinks, there is a growing demand for apron sinks in today's market.
While many apron sinks feature a fixed design, This stainless steel farmhouse sink allows you to embrace various kitchen design trends, including different apron styles, ensuring the best of both worlds.
When it comes to different finishes, let's explore the captivating and practical world of granite sinks. Although these sinks aren't entirely made of granite, composite sink options incorporate specks and crystals from granite and other natural stones. As a result, homeowners can enjoy a non-porous sink (ensuring enhanced hygiene) available in a wide range of shades and finishes, including the look of natural stone.
Many homeowners who opt for granite or quartz slabs appreciate the seamless integration between their sink and countertop. Additionally, granite and quartz sinks offer the advantage of versatility, fitting into almost any space, thus providing exceptional functionality and unique styles and shapes.
Seamless Sink Integration
While traditional kitchen designs often incorporate diverse textures, decorative elements, and intentional imperfections, dedicated modernists and certain homeowners prefer kitchens with a sleek and seamless aesthetic.
If this resonates with your style preferences, explore beyond conventional sink options and consider the integration of a seamless sink. From a hygiene standpoint, countertop and sink joints or seams can become breeding grounds for grime, food residue, moisture, and mould/mildew.
Countertops Specialist offers invaluable guidance in selecting the ideal countertops for your kitchen combined with your sink, enhancing both aesthetics and practicality. With its wide range of options and expert advice, transform your kitchen into an impressive and functional space with ease.