How tall should a kitchen bar high?
How tall should a kitchen bar be?
From being a room solely for preparing meals, the kitchen has become the core of many homes. Installing bars that serve as informal dining rooms for breakfast, lunch or snacks is a trend. If you are thinking about renovating your kitchen and adding a bar, there are certain aspects that you should take into account so as not to make a mistake.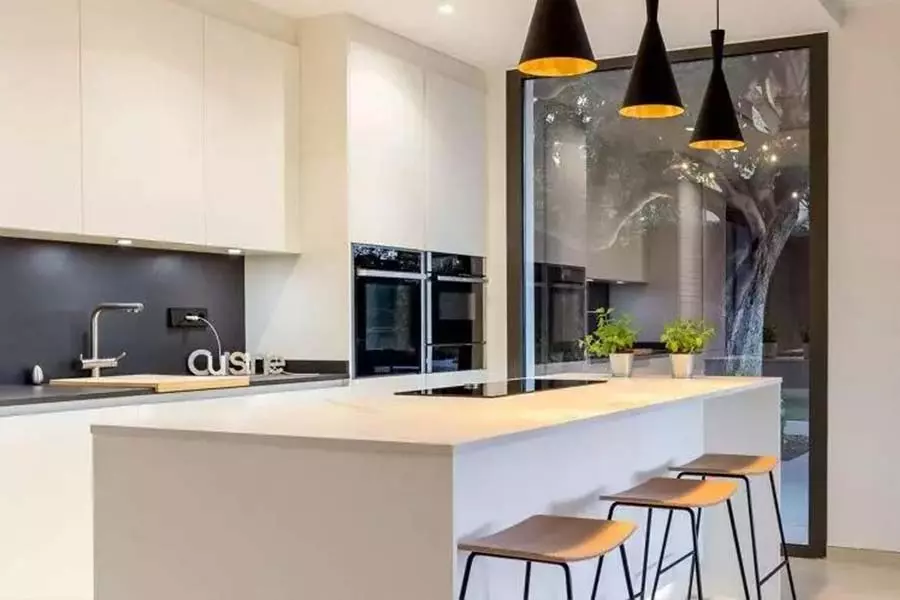 What is the correct height for a kitchen bar?
In reality, there is no fixed height but rather a fork. This measurement depends on the use that will be given to the bar and where it will be installed. Putting a cantilevered bar on the wall, held with brackets, is not the same as designing an island with a built-in bar or an extension of the countertop. In general, the most common uses are:
Bar for breakfast and informal meals.
They are high bars equipped with stools. Their height ranges between 90 and 110 cm, depending on whether they are part of an island or countertop, or are installed on the wall.
The bar for eating and other activities.
In this case, we are talking about bars where you will spend more time. They have to be more comfortable, so it is advisable to have chairs instead of stools. In this case, the height of the bar should be 75 cm.
What should you take into account when installing a kitchen bar?
The measurements of a kitchen bar are probably the first factor to take into account before choosing it. In addition to height, other dimensions must also be taken into account:
Length. It is subject to the space available and the number of people who will use it. It is enough for one person, with a length of 70 cm.
Background. If the bar is an extension of the countertop or is part of an island, its depth may not exceed 60 cm. The same thing happens if we install it on the wall: the background must adjust to the size and resistance of the supports on which it will rest. However, if the bar is freestanding and acts as a peninsula (forming an L with the countertop), the depth can be extended to 90-100 cm to double its capacity.
Another fundamental aspect when installing the bar is that it adapts to the work triangle of the kitchen. What does it consist of? According to this standard, the cooking (hob or stove), water (sink) and storage (refrigerator and pantry) areas must be connected by 3 imaginary lines that form a triangle. These lines must measure a minimum of 120 cm (the shortest) and a maximum of 3 m (the longest). The kitchen bar should not interfere with this structure: the most brilliant thing is to place it outside the triangle, as part of the office, informal dining room or as a separate space.
Types and styles: each kitchen, its bar
Kitchen peninsulas. They are an excellent option to add space for eating, cooking, teleworking or studying… They also act as a visual separation of spaces and are a good alternative to more extensive and more expensive islands.
Bars. If the kitchen is not very large and has an area free of walls, they are the best solution. The folding bars can be lowered when not in use and make better use of space.
Removable bars. Some systems allow you to use a drawer under the countertop as a bar. These mechanisms have guides that support a laminated plywood countertop, which is hidden behind a drawer front. To remove the bar you just have to pull it, and you can put it back when not in use.
Island bars. Large islands (with a minimum width of 110 cm) may include a bar on one side. To do this, under the countertop, you have to make a recess or hole where you can place the stools.
Depending on the style of our kitchen, we can choose between minimalist, very modern and functional bars; rustic type, built-in natural wood with resistant varnishes; rustic style, white lacquered and with mouldings; Nordic, made of light wood and with thin legs… There is an option for every need. And one last piece of advice: if you are going to renovate your kitchen and want to include a bar, consult with professionals first to avoid making mistakes in your project.
Countertops Specialist: Your Trusted Partner for Kitchen Transformations.