Variety in Elegant Black Kitchens
Classic, modern, industrial, and even with a rustic touch. Black kitchens stand out for their overwhelming personality.
Another option to have a black kitchen without abusing this colour is to plan just one of the fronts in black, leaving the rest of the furniture in white. Here the large island is responsible for reflecting light. The wooden floor helps to provide warmth.
Modern rustic-style kitchens make black their best ally as long as combined with natural materials, such as wood or leather. In this kitchen, he opted for a discreet design that goes unnoticed. The best option for black and open kitchens.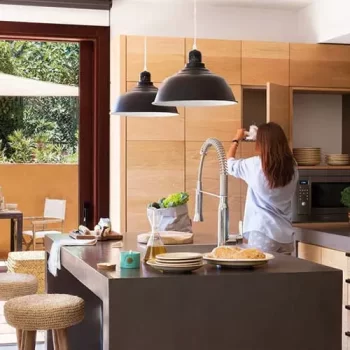 Wood and Black, Great Allies
One of the best ways to bring warmth to a black kitchen is by combining black with wood. And you don't have to just pass through the ground. The combination of furniture in both finishes is ideal for achieving a modern, warm and very up-to-date kitchen
Why have you fallen in love with a black kitchen? Perfect! Separate it with a glass enclosure to let the light travel between rooms, and check the walls with micro cement in a sand colour to raise the temperature.
Black kitchens can also be Rustic
A black-stained wood for kitchen furniture may be the perfect idea if you are looking for the elegance of this colour combined with the naturalness and textures that wood provides. In order not to obstruct the passage of light, the placement of tall furniture is avoided and instead, there is an open shelf that facilitates storage at height.
A Black Kitchen With Wooden and White Details
Small kitchens also allow black to show off as the main colour. The key? Accompany it with light wood and white details, as has been done in this kitchen, where not only are some fronts made of wood but a white countertop has been chosen that softens the strong black.
Impressive Elegance and Style for your Home
Black kitchens are a bold choice and standouts that add a touch of style and elegance to any home. Whether in a classic, modern, industrial design or with a rustic touch, these kitchens stand out for their overwhelming personality. The combination of black with wood creates a warm and contemporary atmosphere, perfect for those looking for a modern and cozy environment. And Countertops Specialist has the right countertop for you.