Hydraulic Floors in the Kitchen
Elevate Your Kitchen with Stylish Hydraulic Floors
Transform Your Kitchen with Stunning Hydraulic Floors: In the world of interior design, hydraulic floors have emerged as a captivating trend that seamlessly marries tradition and contemporary style. These intricate patterns, often reminiscent of vintage tiles, have undergone a modern revival, making them a versatile choice for today's kitchens. Let's explore how these elegant floors can elevate the heart of your home.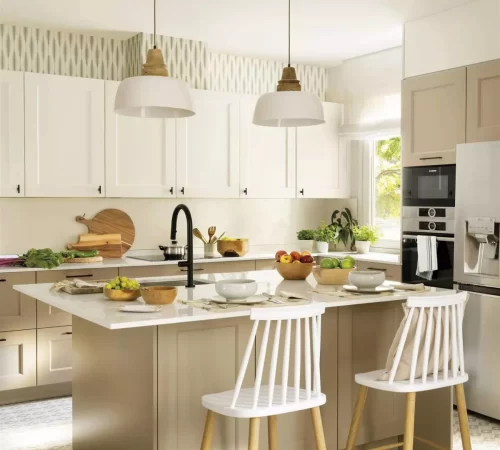 Hydraulic floors offer distinct visual advantages. In open kitchens like this one, they're often paired with laminate or ceramic wood-finish flooring. Opting for neutral tones that align with the furniture, she enhances the effect further by incorporating a contrasting edge that creates a visual separation.
As you have seen, hydraulic tiles not only work in classic or modern kitchens. Other models, such as Nordic kitchens, can also take advantage of the beauty of hydraulic tiles. Here, a delicate floral motif in white, gray and black adds a cozier touch to this kitchen.
A Contemporary Twist on Hydraulic Flooring
Modern hydraulic floors, whether porcelain or ceramic, emulate the patterns of traditional pavements and showcase captivating geometric designs like the one enhancing this kitchen. These designs create an appealing sense of motion on the floor. When selecting such a floor, it's wise to ensure that the rest of the furnishings feature neutral tones, like the gray in this instance.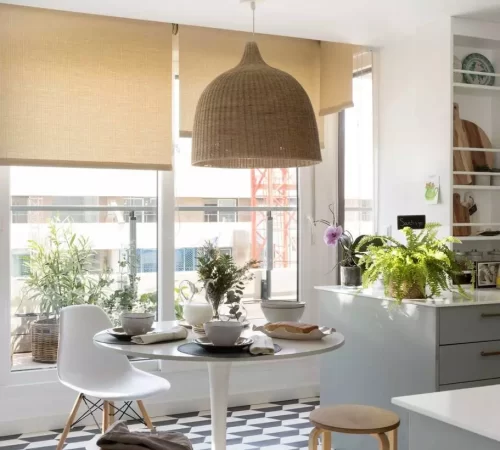 The Best Floor Also For Classic Kitchens
In this classic kitchen, the hydraulic floor adds character, personality and style. The white cabinet with black handles is the best setting for the hydraulic cabinet, in the same tones although with a predominance of black, to stand out with elegance.
Explore the world of tiled floors in your kitchen and let your creativity shine with the inspiration in this article. At Countertops Specialist, we're here to empower your home improvement journey. While we specialize in countertops, our commitment to enhancing your living spaces extends to all facets of your design aspirations.