Nordic kitchen: simplicity, warmth and functionality
Nordic kitchen: bright, clean, practical, and welcoming environments
Nordic kitchens have been a trend for several years now, and it is easy to understand why. The Scandinavian style is characterized by the simplicity and lightness of its shapes, as well as the prominence of white and wood. This results in bright, clean, practical, and welcoming environments.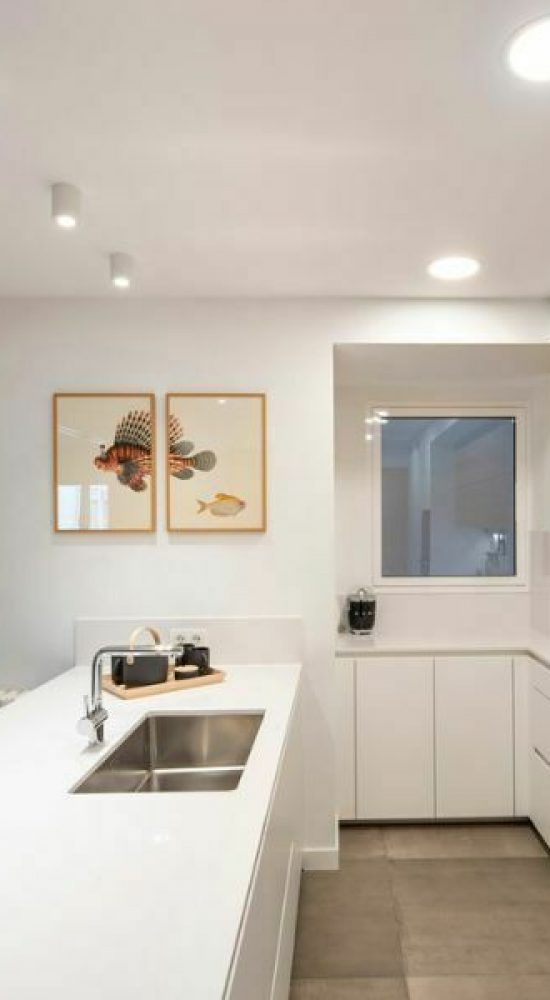 Nordic white and wood kitchen: a timeless combination
As we said, the prominence of white and wood is probably the main hallmark of this decorative style. This makes the most of the natural light that enters the room while providing a fundamental homey touch to feel comfortable in the coldest of winter.
We can see how the oak finish of the wall units breaks with the monotony of the white Nordic-style kitchen, emphasizing the natural beauty of wood and providing warmth and comfort.
White Nordic kitchen: let in the light
However, it is not necessary for wood to be present in the kitchen furniture itself. The usual thing is that the furniture is white, but we do find the warmth of the wood finishes in floors, tables, chairs, wall panel,s or auxiliary furniture.
Nordic style kitchens with island: spaces to enjoy in the company
In the case of having a room of generous dimensions, the Scandinavian style can also benefit from the distribution with an island. It is a very practical element that often becomes a meeting and coexistence point, which undoubtedly also provides a plus of warmth and comfort. If we also add a wooden table to the island of the Nordic kitchen, this effect will be even more evident.
Nordic kitchen: interior window
Separating the kitchen from the rest of the day area by means of an interior window or some glass enclosure will be a magnificent idea to visually lighten the room and multiply its luminosity.
Nordic open kitchen: versatile living areas
Since Nordic kitchens are, by definition, welcoming, simple, sober, and discreet, it is especially easy to adapt them to spaces open to the dining room or living room. Thus, the borders between work and leisure areas are blurred, favoring the fluidity of daily activities and turning any corner of the house into a comfortable place.